Denied and Begging!
femdom bdsm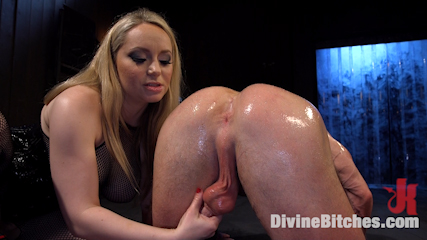 It's always exciting when the Divine Bitches have a huge, hard, muscle beau hunk come to worship at the Church Of the Divine Bitches. Aiden Star takes full advantage of her juicy meat, riding him around like an animal, spanking his rock hard ass and strap-on fucking/prostate milking his cock and hole until precum oozes form his tip. She denies him to guarantee his cock stands tall and hard and she rides it to orgasm leaving him denied and begging!
Denied and Begging!
femdom bdsm

Comments Off

on Denied and Begging!
April 15, 2016
City of Sin: Entitled John Brought Down a Peg
male forced sex slave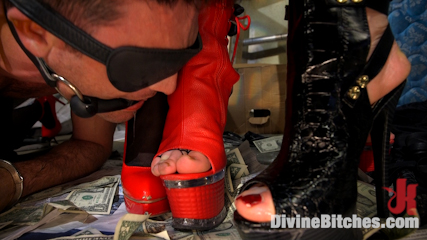 Classic tale of the helpless hooker? Another boring narrative that starts with a lady in distress? Fuck no. This is the truth. The real story of the City of Sin and its reigning princesses, the gloriously divine Lorelei Lee, Ana Foxxx, and newest Divine Bitch, Arabelle Raphael.
When entitled john, Lance Hart, tries to take advantage of these three seemingly disadvantaged tricks, he gets an unforgettable taste of the power and strength of women. Three women, to be exact. Three ruthless, gorgeous women.
After poor Mr. Hart grabs Arabelle, thinking he can intimidate this glorious and powerful woman with a little tip of the hat, some harsh words, and a stack of pitiful ones, she calls over her friends, Lorelei and Ana to help teach this entitled boy a lesson in masculinity.
Lesson One: pain. Our pitiable john is flogged repeatedly from all sides, humiliated and beaten down, made to worship the hard working, sweaty feet of the very women he thought himself better than. Lorelei, Arabelle, and Ana pull his chest hair until he screams, laughing mercilessly at his sad, pathetic cries and the pre-cum dribbling from his lonely dick. Smothering, blindfolds, and face slapping drive this lesson home!
Lesson Two: taking cock. The only way to bring entitled men down a peg is – you guessed it – pegging. All three of these gorgeous, powerful women arm themselves with a cock, each one burying dicks thicker than Lance's own deep inside his muscled body – a mere facade meant to shield the soft and snivelling manliness that hides within. Unable to escape the powerful clutches and scathing taunts of Ana, Arabelle, and Lorelei, our john takes the lesson hard and fast, pausing only to suck his own filth off of each divine cock.
Lesson Three: just a toy. That's right. You're just a toy. A toy to be used by women more powerful than you. And when these three powerful women cum again and again, smothering Lance as he devours the delicious flavors that orgasm has scented their heavenly cunts, it becomes clear: his cock is a dildo. A dildo that Lorelei, Arabelle, and Ana use to bring themselves the infinite pleasures that such entitled johns cannot.
Lesson learned? We'll have to wait to see what The Queen of City of Sin has to say about that…
City of Sin: Entitled John Brought Down a Peg
male forced sex slave

Comments Off

on City of Sin: Entitled John Brought Down a Peg
April 8, 2016
Pretty boy slave humiliated and pegged by Mistress Cherry Torn!
femdom bondage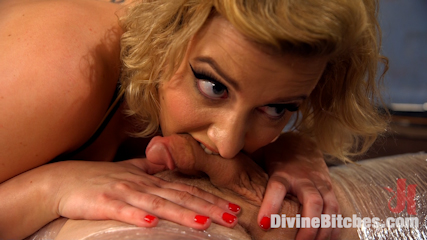 It's extra fun to break down the pretty boys. They think flashing those good looks and cute smile are enough to satisfy a Divine Bitch, but are sorrily mistaken. Mistress Cherry Torn cuts through her slave with her sharp tongue and dissects him to a mere slug in the dirt. This is when the real magic happens! Sweaty foot worship, bondage, dildo gag, pussy worship, pegging and humiliation are all included!
Pretty boy slave humiliated and pegged by Mistress Cherry Torn!
femdom bondage

Comments Off

on Pretty boy slave humiliated and pegged by Mistress Cherry Torn!
April 1, 2016
Latex Lea Tortures Rubber Fuck Boy!
divine bitch free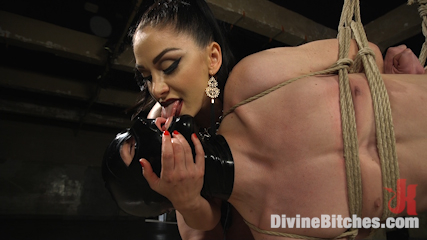 The dark, sadistic dungeon side of Divine Bitches is BACK with master fetishist LEA LEXIS! Dripping in latex, she finds Tony, her rubber whore, chained up in the basement…leaking pre-cum out of his desperate cock! WITHOUT PERMISSION! Let the brutal punishment begin.
Lea clothespins and shocks the hell out of his swollen balls and, since Tony didn't cry too much, lets him dip his head under her sweaty latex skirt and sniff her sweaty cunt and ass. She then canes, flogs and fucks him as he is suspended in the air, screaming for both mercy and to cum. But pathetic rubber perverts don't get to cum…yet. Lea milks Tony's prostate while riding his face and jerking his sad cock. After smothering his face with her delicious pussy and all its orgasms, Lea may let him cum. The rest of you pervs will just have to watch and find out…
Latex Lea Tortures Rubber Fuck Boy!
divine bitch free

Comments Off

on Latex Lea Tortures Rubber Fuck Boy!
Powered by WordPress MU.